"Do you have time to do guitar setups?"  While spending this lovely October afternoon re-attaching a loose brace and repairing a cracked back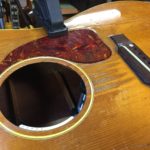 on this 1949 Gibson J-50, the owner asked me if I also do guitar setups. Well, I sure do.  As a player myself, I think our guitars should fit us like a well-worn pair of jeans. When someone brings their guitar in for a setup, I first have them play it for me so that I understand their playing style. The guitar is then setup accordingly. Each setup is unique to the guitar and its owner. Thought I'd mention this since most recent posts have been about fairly involved repairs.
Living outside of Cleveland along the shores of Lake Erie can be pretty tough on our instruments.  The sometimes extreme temperature and humidity swings between summer and winter can cause cracks, warping, fret and neck playability issues and the list goes on.  As a luthier, I see a lot of these climate-related issues with guitars.  However, it was only part of what was going on with this 1966 Gibson J-45.  Here's the video on the steps to its restoration.